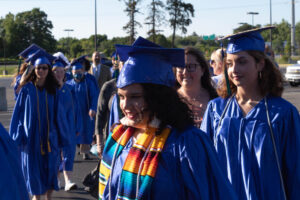 Graduates of Tech Valley High School are prepared for whatever task they choose to take on. With four years of math and science, at least two years of Mandarin Chinese, more than 20 monthly interactions with professionals, 100 hours of community service and more, our students leave as professionals ready for any new challenges.
Our project-based learning model simulates real-world work environments, allowing our students to develop strong problem-solving and critical thinking skills. These skills prepare our students for what they will encounter after graduation.
Teams at TVHS collaborate 30 times each school year, with over 100 presentations across four years. Students explore a variety of career options through I-Term, a two-week annual career exploration program. Through a partnership with Excelsior College, our students can graduate with not only a high school diploma, but a Associates Degree from the college.
We proudly have an 89-100% range of passing rates on required Regents exams, and an 87% second-year college persistence rate.
As a result, TVHS offers our students a level of college and career readiness unmatched by any other institution in our region.
This map shows the colleges and universities attended by our graduates: