The business community is an integral part of Tech Valley High School.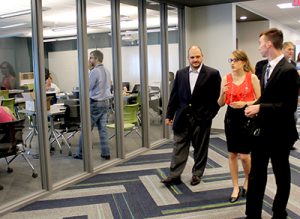 Because of the school's mission of teaching 21st-century skills, TVHS maintains strong links and an ongoing interaction between the "real world" of work in an emerging technologies community and the school's curriculum and activities.
Tech Valley High frequently looks for speakers and curriculum collaborators as well as individuals to join the Business Alliance, a group composed of leaders from business, higher education, government and economic development.
The Business Alliance mission
The establishment of the Business Alliance was included in the state legislation to initially help shape the school then to ensure an ongoing role for the business community as a partner and resource in the development and continued operation of the school.
The Business Alliance supports, advises and connects the operating board, administration, staff and students of Tech Valley High School to ensure a strong linkage and ongoing interaction between the real world of work in an emerging technologies community and the school's curriculum and activities.
The Alliance's role in TVHS education
Business Alliance members work with teachers on curriculum development, finding real-world connections to classroom study, and volunteer their expertise in the school to interact firsthand with the students. They provide feedback on programs and make connections to new business and community partners. Members also advocate for the school with the business, education and political communities, championing the relevance of project-based learning and other innovative teaching techniques.
The Alliance further works to sustain and grow the school while working to share best practices with other districts in the region and beyond. Tech Valley High School serves as a lab and sharing is a key component of the mission. 
The Business Alliance meets three times each school year. The meetings typically start at 3 p.m. at the school.
The businesses serve three-year terms on the alliance with the goal of maintaining a consistency among the business partners while at the same time providing a fresh perspective to the partnership.
Anyone interested in joining the alliance should contact Principal Amy Hawrylchak at (518) 862-4960 or ahawrylchak@techvalleyhigh.org. Learn more about the role of a Business Alliance member.