Tech Valley High School (TVHS) last week welcomed the New York State Board of Regents, Education Commissioner Betty Rosa, and staff from the New York State Department of Education, as well as representatives from Capital Region BOCES and Questar III BOCES, to its campus.
The Board of Regents are responsible for the general supervision of all educational activities within the state, presiding over the University and the New York State Education Department. 
The group, which rarely – if ever – meets at an offsite location, held a board meeting at the school, followed by a student-led tour for the Regents. During a question and answer session with students and faculty, the Regents heard about project-based learning, business partnerships and student activities, including the robotics team.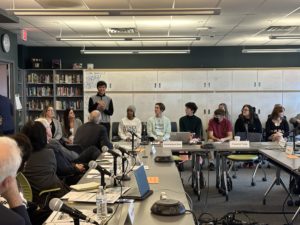 "It was wonderful to show the Regents and NYSED officials our school," said TVHS Principal and Chief Academic Officer Dr. Amy Hawrylchak. "I am very proud of our students, faculty and staff, and school. It was a great opportunity for us to showcase innovative teaching and learning and how a regional school can be successful for all students."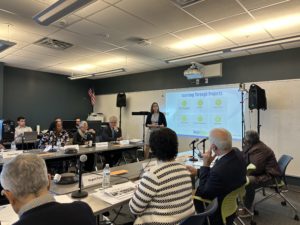 "I was so grateful to be able to share my experience at Tech Valley with the commissioner and Board of Regents," said Nessa Corcoran, a senior from Brittonkill-Brunswick Central School District. "Project-based learning is a wonderful tool that has allowed me to make real world connections and fostered my public speaking and collaboration skills. Tech Valley has offered me not only an incredible education, but a close knit community, lifelong skills and real workplace opportunities. Being able to share this means the world to me, because I hope that the opportunity to attend a school such as TVHS will be offered to other students."