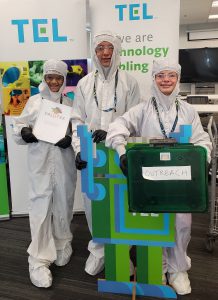 Thank you to all of our campers, families, and partners for a wonderful summer!
Supported by grants this year from Plug, Nuvalence, and Nuts, Bolts, & Thingamajigs, we were able to provide two weeks of engaging and educational camp 55 incoming 7th and 8th graders from around the region. 
Week 1 was themed around Environmental Sustainability.  We had guests from the EPA, DEP, Beyond Plastics, UAlbany (research scientists in air quality), Albany Water Department, and a sustainable architect.  We took field trips to the ETEC building at UAlbany where we got to see the Xcite lab, the meteorology globe, and some of the LEED Platinum features of the building including the green roof; the recycling plant on Pearl Street, and Plug Power's factory in Slingerlands where the kids built their own hydrogen fuel cell vehicles.
Week 2 was themed around Wearable Technology.  We had guests from Sunnyview rehab, including two amputees who use high-tech prosthetics; a speaker in medical wearables from Trelleborg, and presenters from baby monitoring company Nanit and various helmet users.  We took two field trips–one to SUNY Poly where we heard from Dr. Susan Sharfstein about neural interfaces and our students got to control robots using the electric current produced by their arm muscles.  NY Creates gave us a tour of the fab and talked about the gowning procedures and how that form of wearable technology protects both people and products.  We also had an awesome visit with TEL who welcomed us with some amazing station activities and AR glasses to show another side of the topic.  
See you next summer!