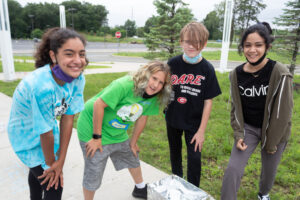 Tech Valley High School concluded another successful Camp Innov@tion last week. The camp, which is for sixth and seventh graders, consists of two one-week sessions where campers receive an introduction to the project-based learning model that is central to Tech Valley High School's distinctive educational approach.
This year, each week was dedicated to innovations in Energy and Biomedical. Sarah Fiess, school outreach coordinator for Tech Valley High School, said the programs are driven by the school's business partnerships, such as those with National Grid, Albany Medical College's Biomedical Acceleration and Commercialization Center, as well as many others. Campers also attend lectures and presentations from business partners.
"Each week, the campers arrive on Monday, join a group of students who are interested in pursuing an innovation on a certain topic, and then do research, design-work and hands-on activities. At the end of the week, they do a presentation for our business partners, pitching an innovative solution that they've come up with to solve a given problem," Fiess said.
The goal is to guide campers through the project-based learning design and engineering process over the course of the week. "We want to make sure that campers have the opportunity to learn in an atmosphere that models the approaches we take at Tech Valley High – the collaboration, communication and innovation. We want to help them see that they can accomplish great things, investigate different STEM careers, and learn how to work together," Fiess noted.
At the end of the week, the school conducts a survey of parents to ask what kind of growth and development they may have seen in their kids. "Largely, they indicate they've seen an improvement in collaboration and communication skills," Fiess pointed out. Not only is the change they witness in the campers what makes the experience rewarding, she said, but also, the growth and development they see in their camp counselors. "We hire current or former Tech Valley students to work as counselors, we call them team mentors. Each mentor is assigned a group of about five students, and they work together to go through this process of development – it's wonderful to see their growth over the course of the week" she noted.
This year, one of those counselors, Mina Olsson of Germantown CSD, attended the first Camp Innov@tion five years ago; she will be starting her senior year at Tech Valley High School this fall. "The work we do at Camp Innov@tion mirrors how we work at Tech Valley – it's all about project-based learning," she said.  Olsson added, "Being a counselor had its challenges. Some of our team members could not agree on an approach, but we thought things through and came up with two different strategies to help tackle the problem."
Fiess said it is important to make the camp affordable for all students; the cost is $100 for a full week, full-day program; scholarships are also available to students. One of the campers, Rei Shkullaku of Guilderland CSD, mowed lawns to save up the money to attend. "I wanted to come to the camp because it seemed like a lot of fun, the counselors are great, and I wanted to keep learning over the summer."
Dr. Amy Hawrylchak, chief academic officer and principal at Tech Valley High School, commented, "It's is a great opportunity for sixth and seventh graders in our region to come together in an innovative and collaborative environment. When the camp is ongoing, the energy in the building is contagious and ideas are flowing. The presentations they gave showed how much the campers could accomplish in just a week while also having fun and learning."
To find out more about Camp Innov@tion, visit www.techvalleyhigh.org/about-tvhs/camp-innovtion.