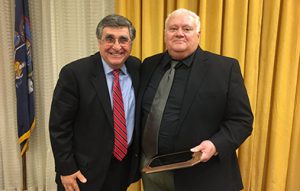 Tech Valley High School Operating Board President Paul Puccio received the first-ever Excellence in School Board Service Award at CASDA's Regional Education Awards Dinner at the Albany Marriott on April 12. 
In addition to his service to Tech Valley High, Puccio has served on the Schodack CSD Board of Education since 1980 and the Questar III Board of Education since 1999.
CASDA's annual event recognizes educators and administrators whose tireless energy and selfless dedication are the pulse of our schools.
"We are excited to once again recognize so many talented educators who demonstrate dedication, exemplary leadership and go above and beyond to accomplish the extraordinary in our region's school districts during this special evening," said CASDA Executive Director Dr. James Butterworth. "It's their commitment to the educational success of their students that make them such indispensable members of their school communities and deserving recipients of these awards."