Tech Valley High School recognized nationally for educational excellence with 21st Century Learning  Exemplar designation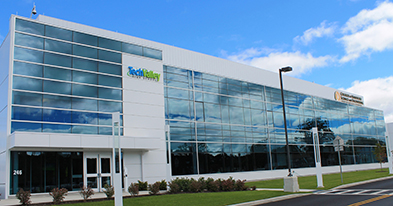 Partnership for 21st (P21) Century Learning has designated Tech Valley High School (TVHS) as a 21st Century Learning Exemplar School for 2017-2018. Tech Valley High earned this award for its outstanding practices in equipping students with the necessary skills and knowledge for success in college, career, and life.
The P21 Exemplar Program requires schools to not only demonstrate adequate implementation of the framework for 21st-century learning, but also expertise in the following areas: student agency, distributed leadership, a climate of achievement, engaged community, and use of evidence and research.
"Receiving the P21 Exemplar recognition is especially meaningful this year in our 10 th anniversary year. We have accomplished much in the first decade of our school's existence and are eager to celebrate it throughout our region," said TVHS Principal Jim Niedermeier. "Earning national recognition for our program paves the way for us to serve more students in the Capital District."
Tech Valley High features project-based learning across all content areas, a robust internship program called i-term and, new this year, the opportunity for students to earn a concurrent associates degree from Excelsior College during their four years of high school studies.
David Ross, CEO at P21 stated, "P21's Exemplar Program works to identify innovative education paradigms across the country. When policymakers say 'show me what you mean,' we turn to our P21 Exemplars for hard evidence." As part of uplifting the best practices from Tech Valley High, P21 will develop a case study and release it to the public for free download at p21.org/exemplars in spring 2018. The link to the case study will be shared with the TVHS community once it is released.