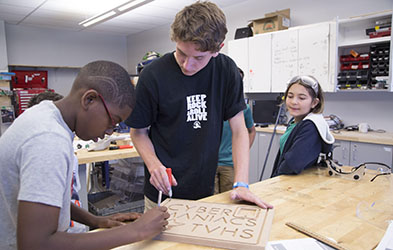 Tech Valley High School hosted more than 40 middle school students for Camp Innov@tion. Throughout the week, students from 25 Capital Region schools discussed strategies and solutions to real-world problems with some of Tech Valley High's business partners, participated in off-site field work in the Tech Valley region, and learned hands on manufacturing skills to engineer elements of their final presentation. The free week-long experience saw students entering 7th and 8th grades collaborating to solve problems such as breaches in cyber security, preparation and response solutions to natural disasters, and prevention of a global public health crisis.
The camp, which was sponsored by Siemens, National Grid, and Nuts, Bolts & Thingamajigs® (NBT), the foundation of the Fabricators & Manufacturers Association, Intl.® ended with students presenting their ideas and solutions at the Museum of Innov@tion and Science (miSci) in Schenectady.
"There is so much brain power in this room right now." said Evonne Hamler-Cadet, who sent her son Bryce to Camp Innov@tion. "I love that this camp encourages collaborative learning while fostering the strengths of each individual student. My son has always had an interest in science and engineering, but this experience allowed him to gain a deeper knowledge of those subjects, while making new friendships."
"This camp really allowed me to step outside my comfort zone." said Faith Brown, a camper from Farnsworth Middle School in Guilderland who gained a newfound confidence. "At first, it was intimidating, because I didn't know any of the other students here, but by the end of day one, we were openly sharing ideas and working together on projects like we had always known one another."Sylvia Mattraw-Johnston of Coxsackie was surprised by the knowledge she gained through her experience at Camp Innov@tion
"When I signed up, I thought the entire camp was going to be about robotics," Mattraw-Johnston said. "It ended up being so much more. We worked in teams, but assigned each person different roles, based on what they were good at. I became the spokesperson for our group and shared a lot of our ideas during our final presentation."   
Camp Innov@tion is focused on promoting collaborative creativity and advancing innovation through STEM learning. This was the first summer Tech Valley High School offered the camp.
To see more of the Camp Innov@tion student experience, visit our Facebook photo gallery.