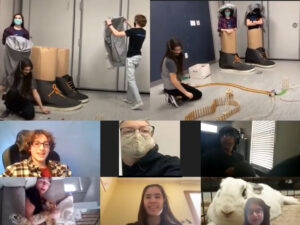 The Tech Valley High School Odyssey of the Mind team won first place in Region 7 (the only team that tackled this problem) and 3rd out of 7 teams in the state. The team is eligible to go to the World Competition. They are having a virtual competition and an in-person competition in Orlando, Fl.  The team has yet to meet to confirm which one they will compete in. 
"Our Odyssey of the Mind team did great this year, with a lot of hard work and coordination.  A lot of credit goes to Mina Olsson, who led, managed and organized the team," noted Coach Diana Weldon, science teacher at TVHS. "In addition, thanks go to Sarah Fiess for volunteering as a judge in the competition.  I know it took a lot of time and we couldn't do it without the volunteer judges!"
Weldon continued, "The way that Odyssey worked this year was, each team submitted a video of a skit of their problem.  For our problem, we had to build a balsa wood structure which held almost 300 lbs. They did a super job under very difficult circumstances!"
Congratulations to TVHS Odyssey of the Mind team – Mina Olsson, Hannah Henry, Aiden Clawson, Caden Hobart, Josh Matthews and Amy Bizer.
Odyssey of the Mind is an international creative problem-solving program that engages students in their learning by allowing their knowledge and ideas to come to life in an exciting, productive environment.