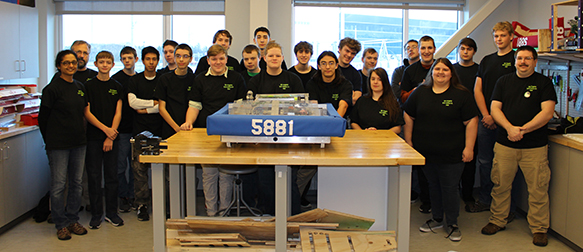 The Tech Valley High School Robotics Program was recently awarded a $5,000 grant from NASA's Robotic Alliance Project. The grant will help pay for Tech Valley High's registration in the FIRST NY Tech Valley Regional Robotics Competition at RPI in March. 
Under strict rules, limited resources and an intense six-week time limit, the FIRST Robotics Competition challenges teams of students to raise funds, design a team brand, hone teamwork skills and build and program industrial-sized robots to play a difficult field game against like-minded competitors. 
"On behalf of the Tech Valley High School Robotics Program, I would like to thank NASA's Robotic Alliance Project for this generous grant. It will allow us to dedicate our other resources for the construction of the robot and other important elements in preparing for the competition this spring," TVHS technology teacher and robotics advisor John Hartnett said. 
"This will be our second year participating in the FIRST Robotics Competition, and we are grateful to have the continued support of NASA's Robotic Alliance Project. The grants we have received the past two years have made our participation possible, providing valuable experiences for our students," TVHS math teacher and robotics advisor Varada Pandya-Vaughan said.
The TVHS Robotics Program was established during the 2015-16 school year, offering a class and club. The robotics team competed in its first competition of the year on Saturday, Nov. 5 in Ballston Spa at the FIRST Robot Rumble. TVHS also competed in the VEX Competition at RPI on Saturday, Dec. 10.