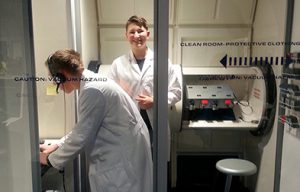 The 10th grade chemistry class did field work at the Challenger Learning Center of miSci, a simulated space station.
"Based on NASA astronaut training, the Challenger Learning Center allows participants to be part of a simulated mission to space in an innovative learning environment," the website says. "Visitors become part of a crew of engineers and scientists on-board the space-craft. Like NASA astronauts, scientists, and engineers, visitors are assigned essential tasks and conduct critical experiments that they must execute for mission success."
The trip was part of the chemistry class's Earth Odyssey project. Sophomore Caiden Larsen of Berne-Knox Westerlo said he was able to apply knowledge gained from the hands-on experiments to his class project.
"At the Challenger, I was on the atmosphere team, which was the same team I was on for our class project," he said. "I learned about how sun activity reacts with things like satellites."