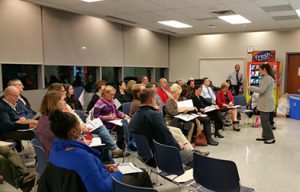 Tech Valley High School recently welcomed 40 educators from Niskayuna Central School District to participate in a Program Study about project- and problem-based learning.
Program Study is one of Tech Valley High's professional development programs. It provides an overview of project-based learning and the principles and practices of TVHS; project rollout with a teacher to explore how to launch/implement project-based learning; and a Q&A with 3-5 TVHS students describing their experiences.
"It was an outstanding tour, the staff and students were polite, professional, and very knowledgeable – a true pleasure in every aspect, and thank you!" Rosendale Elementary School Principal Joseph DiCaprio said.
"The student guides demonstrated confidence, enthusiasm and pride in their school," Glencliff Elementary School teacher Beth Montrello said.
Tech Valley High is a national New Tech Network Demonstration site. We are committed to supporting schools in their implementation of student-centered teaching and learning environments. To learn more about all of our professional development programs, visit our website or contact School Outreach Coordinator Sarah Fiess at (518) 862-4958.