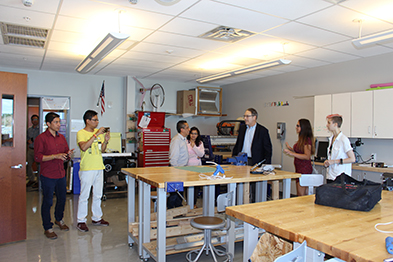 Tech Valley High School welcomed a delegation from Colombia on Friday, Sept. 9 during the group's national multi-stop tour of American education institutions. 
These visitors are invited to the United States under the auspices of the Department of State's International Visitor Leadership Program. Their program is arranged by the Institute of International Education. 
The Department of State has specific objectives for the project:
Visit federal agencies, schools, NGOs, and associations to explore the organization of U.S. education systems;
Learn how curricula are implemented to improve math and science instructional practices;
Meet with teachers and observe scientific classroom instruction at the elementary and secondary school level;
Explore public-private partnerships designed to accelerate STEM learning; and
Exchange best practices with educators and curriculum developers.
TVHS is a nationally-recognized New Tech Network Demonstration Site. We are committed to supporting schools in their implementation of student-centered teaching and learning environments. For more information about tours, program study, teacher residencies and other professional development opportunities, visit our Professional Development page.