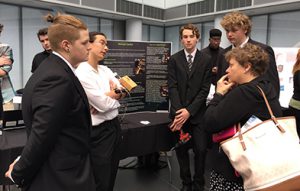 On Wednesday, May 10, Tech Valley High held its annual Expo, a student project showcase in the atrium of SUNY Polytechnic Institute's ZEN building. The expo was a great presentation of how hard TVHS students and teachers work to create dynamic, authentic projects in both the STEM and Humanities fields. The projects were created during classes from all disciplines throughout the school year. Students were asked to revise them, create a pitch and a visual display. 
Guests voted for their favorite projects and the following superlatives were awarded:
Best in Show
Maeve Corcoran of Brunswick, Mackenzie Squair of Cobleskill-Richmondville and Anthony Delmonico of Menands for their game board.
Most Creative Project
A tie between Kareel Slager of Coxsackie-Athens & Dylan Rapp of Ichabod Crane, and Jayde Becker of Hoosick Falls & Aaron Smith of Greenville for their respective game boards.
Best STEM Project
Seiji Akera of Berlin, Kiam Kaiser of Berlin, Axton Pulliam of Berne-Knox-Westerlo & Nick Miller of Greenville for their mechanical arm/electronic limb mapping project.
Best Humanities Project
Bennett Plowman of Brittonkill & Hannah Hoyt of Menands for the school play.
Award winners were given gift cards to Barnes & Noble and Best Buy. The awards were sponsored by the Tech Valley High School Foundation.
Congratulations to all students for participating in the showcase, which was acclaimed as a "next level event" by Questar III District Superintendent Gladys Cruz.