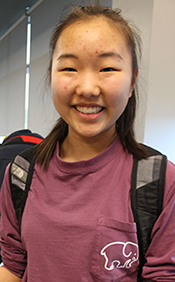 When Tech Valley High School (TVHS) freshman Purevsuren Batdorj saw her older brother create a computer program for the first time, it inspired her to want to become a computer scientist.
"I remember this one time, he made a game where a T-rex was chasing after a person," she said. "It was a simple game of tag that only lasted for a minute. But at that very moment, I was in such awe and was so amazed how just a simple amount of coding could turn into a game. I was so fascinated that I wanted my brother to teach me how to do what he did."
Since then, computer programming has been a regular hobby for Batdorj, one that allows her to flex her creativity.
"I never liked being told what to do growing up, and when I got into programming, I was allowed to make my own rules on how I wanted things to be or look," she said. "I was free to let my imagination run wild!"
Starting next fall, Batdorj and her peers will have the opportunity to take a computer science elective at TVHS for the first time. It will be offered in partnership with Siena College under the grant-funded Siena Plan for Attracting and Retaining Computer Scientists (SPARCS), which focuses on recruiting and retaining computing majors in high school and the first two years of college.
The SPARCS program includes a high school dual enrollment program that introduces computer science education to Capital Region high schools that are not currently offering it. It is made possible by a $688,000 National Science Foundation grant that was awarded to Siena in 2014. The funds allow Siena faculty to prepare high school teachers in the Capital Region to teach Siena's introductory computer science course. TVHS math teacher Jason Irwin is currently taking the course at Siena in preparation to teach it this fall.
"No matter what career you're preparing for, you need to have a background in computer science because it's a part of every single job now," TVHS Principal James Niedermeier said. "It's as prevalent in some industries as knowing how to use a pen."
The U.S. Bureau of Labor Statistics indicates there were more than 600,000 high-paying tech jobs across the United States that were unfilled last year, and by 2018, 51 percent of all STEM jobs are projected to be in computer science-related fields.
"It is the 21st century and our lives revolve around technology," Batdorj said. "We use our computers, smartphones, tablets and TVs every day. Have you ever wondered how it works? Well, this is something that I always think about and it seems to fascinate me every time."
"When you code, you're pretty much learning a new language," Batdorj continued. "It's a language that is critical if we want to keep up with new technology."
Principal Niedermeier said even if a student doesn't pursue a STEM field in college or careers, computer science is important because it is "a practical side of math."
"It teaches logical thinking," he said. "It's very rare when you create something using math. But when you code a robot or a computer program, it's using a math problem to create an output, so the robot moves, or the program does something. Computer science gives us a way to show math can create authentic products."
Siena College professor Dr. Meg Fryling said the grant allows the college to help address a shortage of computer science professionals in the workforce, and begin to address a long-standing gap in New York state high school education by helping local schools gain the knowledge necessary to teach computer science. She said the partnership will help students gain exposure to computer science while still in high school.
"Unlike students in other STEM fields, many entering college freshmen have not had the opportunity to learn about the discipline of computer science in a high school program,"  Fryling said. "Only six states require a high school computing course for graduation."
Fryling said there is currently no New York state computer science teacher certification. As such, few high schools offer computer science courses, so when students attend college, computer science is often not considered as a major due to lack of exposure.
"Women are at a particular disadvantage because they are significantly underrepresented in the computer science major, at approximately only 13 to 14 percent," she said. In 2008, more than half of students taking Advanced Placement (AP) exams were women, while only 17 percent of computer science AP test-takers were women. "On the positive side, investigations have shown the benefits of high school dual enrollment … especially underrepresented groups."
Principal Niedermeier said the goal is to make an introductory computer science course a requirement for all TVHS students in the 2017-18 school year. This will help address the lack of exposure that Fryling referenced.
"Traditionally, girls don't elect to take computer science courses, though they have a lot of aptitude for it," Niedermeier said. "Most of our female students are better than boys in math and science, so it doesn't make sense that girls don't code." 
Batdorj said when it comes to computer science, there are a lot of stereotypes against women who want to pursue technology in college and careers.
"Even though there are more men than women in computer science, you can't get intimidated by them," she said. "You have to strive to do what you want. And lastly, you have to be motivated. If you're motivated to do what you want, no one can stop you."
The computer science skills gap is being highlighted nationally under President Barack Obama's Computer Science For All initiative, which aims to empower all American students from kindergarten through high school to learn computer science and be equipped with the computational thinking skills they need to be creators in the digital economy, and to be active citizens in our technology-driven world.
"In the coming years, we should build on that progress, by … offering every student the hands-on computer science and math classes that make them job-ready on day one," Obama in his 2016 State of the Union address.