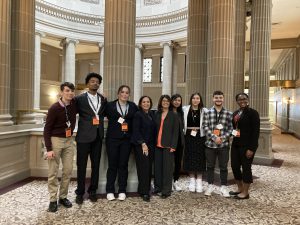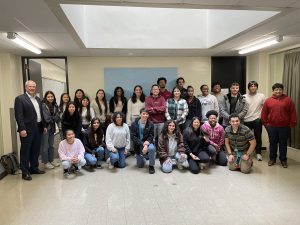 The Angelo Del Toro Puerto Rican/Hispanic Youth Leadership Institute is a program that prepares Hispanic students across New York State to become active participants in the NYS Assembly, for a day, where they debate and pass live bills. In addition, the students also engage in a series of trainings where they develop their critical thinking, writing, public speaking, and leadership skills. The following students from Tech Valley High School were chosen to represent their school, Assembly member and community at the Institute on March 11-13, 2023: Javier Feliz-Nickerson, Miguel Dela Cruz Cruz, Isaias Rivero, and Luciano Sullo. 
This year approximately 200 students from 7 delegations statewide took part in the 33rd annual Hispanic Youth Leadership Institute in Albany. The students participated in key activities which include team-building exercises to develop interregional relationships; a Mock Assembly session which is conducted in the NYS Assembly chamber; a student recognition dinner, where winners of the PR/HYLI scholarships and other awards are announced, and a series of culturally empowering workshops tied to this year's theme: Defending our Democracy. 
TVHS was proud to have Javier Feliz-Nickerson represent us as students from the Capital District Delegation were selected to represent their peers at the Board of Regents Meeting which took place on Monday, March 13, 2023, to speak about their PRHYLI experience and give recommendations to the Board regarding their school(s) and community needs. 
Congratulations to all of our students involved in the program!