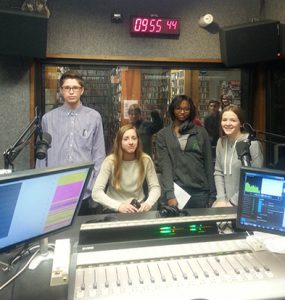 Freshmen recently went live on the air and played DJs for a day in presenting podcasts at WRPI, the campus radio station at Rensselaer Polytechnic Institute in Troy.
The bioengineering class recorded podcasts to describe a cool cutting-edge genetic technology for a project about DNA. They learned about DNA and how it works, how this knowledge is applied to cutting edge technologies and how to create a podcast.
Four teams were selected to present their podcasts. They briefly introduced the podcast live and then they were played on the radio.
The teams that presented include:
Kerry Lindemann, Jennifer Ljutich, Shaun Nestor and Kyla Mansfield.
Isaiah Jamison, Blaine Walker, Patrick Logsdon and Jennifer Keller.
Montana Higgins, Emine Turkoglu, Skyler Moon and William Lester.
Jack Ganger-Spivak, Ian Jensen, Mylea Braun and Ryker Dorman.
"The students enjoyed seeing a radio station and all of the music and technology used there," teacher Diana Weldon said.