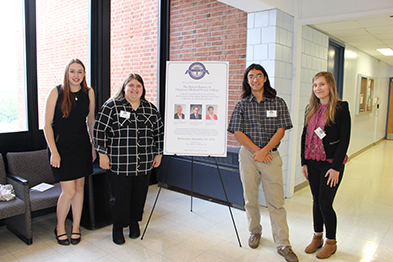 Four Tech Valley High School students were the guests of Albany Medical Center on Wednesday, Sept. 28 for its 16th annual Prize in Medicine and Biomedical Research Program and Ceremony. 
Senior Olivia Galasso of Cobleskill-Richmondville, juniors Seiji Akera of Berlin and Hannah Hoyt of Menands, and sophomore Macy Hayes of Menands got the opportunity to observe grand rounds by three award-winning doctors.
Drs. F. Ulrich Hartl, Arthur L. Horwich and Susan Lee Lindquist were recognized by Albany Medical Center for their fundamental and complementary discoveries related to the mechanisms of protein folding.
"I'm very grateful to have had the opportunity to hear about the doctors' groundbreaking work," said Galasso, who intends to pursue a biology major in college next fall. "It is important for me and my peers to see the types of rewarding career paths that are available in the STEM industries."
The opportunity was made possible through the continued partnership TVHS has with Albany Medical Center, which provides students with experiential learning in careers through the TVHS I-Term program. Albany Medical Center has continued to host a group of TVHS students on-site every February, allowing students to work side-by-side with professionals to learn about a particular field.