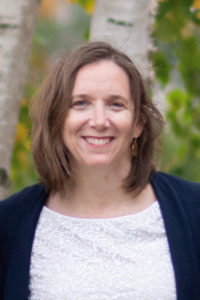 Tech Valley High School Operating Board Appoints New Chief Academic Officer/Principal
 The Tech Valley High School (TVHS) Operating Board voted to appoint the school's next chief academic officer/principal at a special board meeting Tuesday night. Dr. Amy W. Hawrylchak, who has served as the assistant principal of Guilderland High School since 2015, will become the school's next leader, effective January 4, 2021.
Capital Region BOCES and Questar III BOCES, which jointly operate the school, conducted a search for a new chief academic officer and principal after former principal Dr. James Niedemeier became the superintendent of Duanesburg CSD.
"We are familiar with Amy's work at Guilderland over the past five years, where she expanded opportunities for students. Her collaborative style, along with her experience with data and technology, will serve her well as the school's new chief academic officer and principal," Capital Region BOCES District Superintendent Anita Murphy said.
Dr. Hawrylchak has nearly 20 years of teaching and administrative experience in public education. She is a former faculty member at Capital Area School Development Association (CADSA) and previously served as an adjunct professor at the College of St. Rose. She also served in administrative roles in Lexington and Natick, MA public school systems. She started her education career as a middle school Spanish and French teacher in Natick.
"Amy's passion for collaboration makes her the right choice for this dynamic role leading a school built on partnerships with higher education, K-12, business and others. We look forward to working with Amy to expand Tech Valley High School's impact and reach," said Questar III BOCES District Superintendent Dr. Gladys I. Cruz.
Dr. Hawrylchak has a bachelor's degree from the University at Albany, master's degree from Harvard University and a doctorate from Sage College. She also completed administrative licensing programs at Cambridge College and Canisius College.
"I am excited to begin my new role at Tech Valley High School. It is truly an honor to join this innovative school community. I look forward to collaborating with our students, teachers, parents, operating board members, school districts, business alliance and foundation members and other partners," said Dr. Hawrylchak. 
About Tech Valley High School:
Tech Valley High School (TVHS) is a four-year regional public high school that is built on the principles of project-based learning and collaboration. Students engage in hands-on projects based in authentic applications of New York state learning standards. We serve approximately 140 students in grades 9-12.
The mission of Tech Valley High is to provide a unique, innovative and student-centered educational opportunity, engage students in current and emerging technologies and support the growth and economy of the region.
Students at TVHS learn both in and out of the classroom. Our Guiding Principles form the basis of every class and activity in which our students participate. In the classroom, students have ample access to technology, participate in Student Learning Teams, can earn college credit with College in the High School courses as well as the College Ready partnership with Excelsior College.
Outside the classroom, students do field work and community service, present projects to business and community leaders, and participate in I-Term, our annual career exploration program.
TVHS students receive a well-rounded education that includes art, technology, foreign language, service learning, experiential learning, and physical education, as well as core subjects. Students graduate having met or exceeded requirements for New York State Regents or Advanced Regents diplomas from their home districts. Project-based learning is the primary means of instruction at Tech Valley High School.
Education at TVHS is enriched by the school's partnerships with area businesses and higher education institutions. 
###